Sharper business activity growth indicates a strong start to the final quarter for Dubai's private sector
Dubai, November 9th, 2017:
The latest data indicated a strong start to the final quarter of 2017 for Dubai's non-oil private sector. Steep expansions in activity and new business contributed to the sharp improvement in business conditions in October. The seasonally adjusted Emirates NBD Dubai Economy Tracker Index – a composite indicator designed to give an accurate overview of operating conditions in the non-oil private sector economy – rose to 55.6, from 55.2 in September. Wholesale & retail was the best performing sector in October.
A reading of below 50.0 indicates that the non-oil private sector economy is generally declining; above 50.0, that it is generally expanding. A reading of 50.0 signals no change.
The survey covers the Dubai non-oil private sector economy, with additional sector data published for travel & tourism, wholesale & retail and construction.
Commenting on the Emirates NBD Dubai Economy Tracker, Khatija Haque, Head of MENA Research at Emirates NBD, said:
"The improvement in the Dubai Economy Tracker index is largely on the back of stronger output and new work growth, although intense competition is still pressuring firms' pricing power and margins. Businesses surveyed were more optimistic at the start of Q4, which is typically 'high season' for the travel & tourism sector."
Key Findings
Dubai Economy Tracker Index rises to 55.6 in October, from 55.2
Strong output and new order expansions
Input cost pressures sharpen
Business activity and employment
Private sector companies noted a further increase in business activity in October, in part reflecting improving client demand. The rate of growth was sharp overall, and broadly in line the average seen throughout 2017 so far. Furthermore, the most recent data extends the current sequence of growth seen since March 2016. At the sector level, the construction industry reported the strongest output expansion for over two-and-a-half years in October.
In response to rising output requirements, firms continued to hire additional staff for the eighth month running. Job creation accelerated and reached a solid pace overall. Moreover, employment growth was the most marked since April.
Emirates NBD Dubai Economy Tracker Index™
Seasonally adjusted, 50 = no-change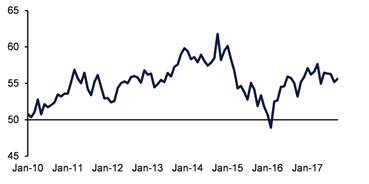 Sources: Emirates NBD, IHS Markit
Incoming new work and business activity expectations
October data signalled a sharp increase in incoming new business among non-oil private sector companies operating in Dubai. Anecdotal evidence pointed to strong underlying demand in the domestic market. The wholesale & retail sector registered the fastest rates of new business expansion during the latest survey period.
Future growth sentiment remained strongly positive in October and hit a ten-month high. Companies frequently noted that an expected economic upturn and upcoming new projects related to Expo 2020 had underpinned business confidence.
Input costs and average prices charged
Input cost pressures faced by non-oil private sector firms ticked up in October and hit a 26-month high. The rate of input price inflation was solid overall, albeit below the series long-run average. At the sub-sector level, companies in the construction industry reported the sharpest rates of increase.
In spite of rising cost pressures, selling prices continued to fall for the second month in a row during October, amid reports of intense market competition. Companies in the travel & tourism and wholesale & retail sectors registered a decrease in output charges, whilst those in the construction sector noted a marginal increase.
Emirates NBD Dubai Economy Tracker Index: Sector summary
Index: Sector summary
Seasonally adjusted, 50 = no-change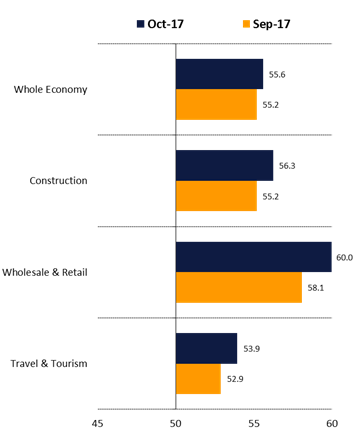 Sources: Emirates NBD, IHS Markit