Dubai, 27 December 2017: Emirates NBD, a leading bank in the region, today announced the signing of an agreement to offer clearing services to UAE-based brokerage firm Shurooq Stocks & Bonds.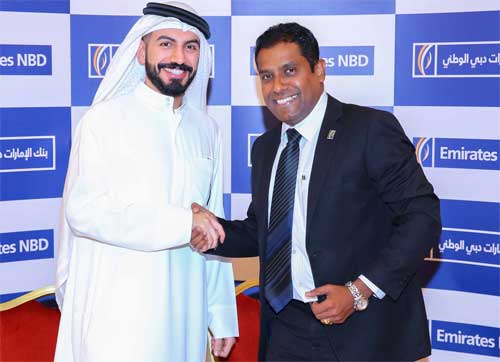 Emirates NBD is the first UAE-based financial services entity to be approved by 'SCA - Securities and Commodities Authority as a 'General Clearing Member' providing clearing and settlement services to trading participants of the UAE's equity markets. The signing ceremony took place in the presence of Mr. Khalid Al Shaikh, 'SCA Head of Licensing, along with senior officials from Dubai Financial Market (DFM), Abu Dhabi Securities Exchange (ADX), Emirates NBD and Shurooq Stocks & Bonds.
"Being the first qualified General Clearing Member in the UAE, Emirates NBD offers an unparalleled financial proposition to trading members and brokerage firms in the country, providing them with the services needed to enhance their operational and cost efficiencies. With a stronger regulatory environment in place designed to help trading members, we are pleased to welcome onboard Shurooq Stocks & Bonds and expect more brokerage firms to avail our services going forward," said Tariq Bin Hendi, Executive Vice President and Head of Products & Advisory, Emirates NBD Group.
Mr. Hassan Al Shamsi – Chairman of Shurooq Stocks & Bonds, said: "We want to thank Emirates NBD for their integrated approach to stock market settlements which will add depth to the UAE's equity markets. We look forward to working closely with the bank on our transactions."
Seen here in the picture are Mr. Saif Hassan Al Shamsi, Partner at Shurooq Stocks & Bonds, and Mr. Deeptha Premasinghe, Head, General Clearing Member Services at Emirates NBD.