Woburn, MA — September 22, 2021 — According to a recent Kaspersky study, when the pandemic began in March 2020, developing new products was a way to respond to the uniquely challenging situation for 28% of small companies in North America. 48% of SMBs reported that lockdown measures shook the financial wellbeing, and as a result, they had to take many cost-saving measures.
In addition to the launch of new products and services (28%), as an active response, 11% of companies said they entered new business sectors. Among other anti-crisis measures, predictably the most common was allowing all or most employees to work remotely (34%), but the majority of decisions still aimed to optimize expenses with organizations saying they introduced budget cuts (33%), reduced pay or working hours (35%), diverted budgets or stopped investment plans (25%). More than one in ten companies also reported they had to take critical measures such as laying off employees (14%), or stop paying bills (11%).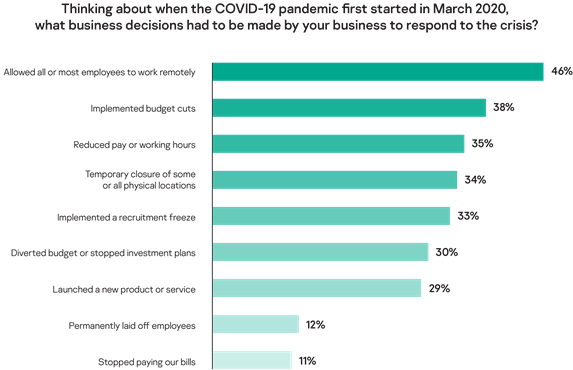 "This survey highlights that although some business decisions were difficult, they were necessary," comments Andrey Dankevich, senior product marketing manager at Kaspersky. "Now, it is good to know that the overall feeling about the results of the pandemic is somewhat positive across small companies with two-thirds (68%) agreeing that their business responded well to the global challenge. The lessons learned should now help them to better prepare for future challenges, improve the current investment plan and processes, try new things boldly, and become more digital. I also believe that the products and services launched in response, will stay relevant because anti-COVID-19 restrictions are still in place and people continue to follow digital habits picked up during the pandemic."
For companies that want to be more savvy and safe in the digital world, Kaspersky launched the Cybersecurity on a Budget platform with free guides on how to save on online tools, communicate with customers, protect sensitive data, and much more.
To discover more findings from the Kaspersky report: "How small businesses got through 2020-2021: Budget cuts, product launches, and new investment priorities," please read it here.
---
About Kaspersky
Kaspersky is a global cybersecurity company founded in 1997. Kaspersky's deep threat intelligence and security expertise is constantly transforming into innovative security solutions and services to protect businesses, critical infrastructure, governments and consumers around the globe. The company's comprehensive security portfolio includes leading endpoint protection and a number of specialized security solutions and services to fight sophisticated and evolving digital threats. Over 400 million users are protected by Kaspersky technologies and we help 270,000 corporate clients protect what matters most to them. Learn more at usa.kaspersky.com.