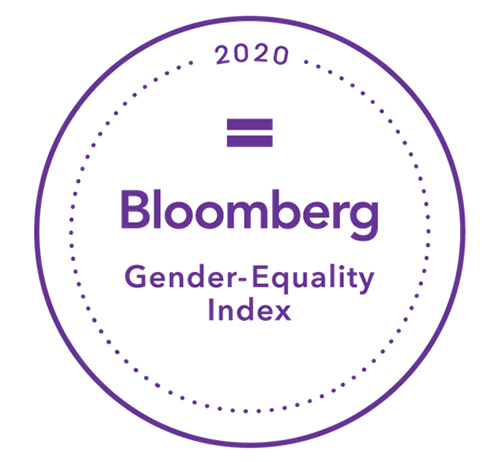 TORONTO - For the fourth consecutive year, RBC has been selected for the 2020 Bloomberg Gender-Equality Index (GEI), which distinguishes companies committed to transparency in gender reporting and advancing women's equality. The 2020 Index represents 325 global companies from 50 industries headquartered across 42 countries and regions.
At RBC, diversity and inclusion is more than just one of our core values; it represents what we stand for, what we expect of one another and how we treat each other. We believe diversity and inclusion is an engine for innovation and economic prosperity.
Our bold vision is to be among the most inclusive and successful companies in the world, building a culture where everyone can thrive and bring their whole authentic selves to work. We strive to be a recognized leader in the enablement and advancement of women through inclusive business, talent and community practices.
Advancement of Women at RBC
Between 2014 and today, representation of women at the executive level has increased from 35% to 46%.
RBC is a founding member of the Canadian chapter of the 30% Club, an organization with an aspirational goal of 30 per cent of board seats and C-suite roles to be held by women by 2022.
Women currently comprise 43 per cent of the RBC Board of Directors, including the Chair of the Board.
We believe that achieving gender equity is both the smart thing and right thing to do and is key to our long-term success. We challenge unconscious bias in the staffing, hiring and talent review processes. Staffing goals for new executive (vice-president and above) appointments for women are 50%.
We also strive for 50 per cent representation of women in all Leadership Development programs.
There are 14 employee resource groups at RBC focused on creating opportunities for women to leverage their skills, expertise and potential to support their personal and professional development, and fostering a mentoring environment at the bank.
To learn more about the Diversity & Inclusion at RBC, visit www.rbc.com/diversity-inclusion.
Bloomberg's standardized reporting framework offers public companies the opportunity to disclose information on how they promote gender equality across four separate areas – company statistics, policies, community engagement and products and services. Reporting companies that score above a globally-established threshold, based on the extent of disclosures and the achievement of best-in-class statistics and policies, are included in the GEI.
For more information on the 2020 Bloomberg Gender- Equality Index visit
www.bloomberg.com/company/press/bloombergs-2020-gender-equality-index-expands-to-include-325-public-companies-globally/.
---
About RBC
Royal Bank of Canada is a global financial institution with a purpose-driven, principles-led approach to delivering leading performance. Our success comes from the 85,000+ employees who bring our vision, values and strategy to life so we can help our clients thrive and communities prosper. As Canada's biggest bank, and one of the largest in the world based on market capitalization, we have a diversified business model with a focus on innovation and providing exceptional experiences to 17 million clients in Canada, the U.S. and 34 other countries. Learn more at rbc.com.
We are proud to support a broad range of community initiatives through donations, community investments and employee volunteer activities. See how at rbc.com/community-social-impact.