Despite all of the hype of cryptocurrencies, mobile pay, and contactless payments, cash is still king for many businesses. But when it comes to handling, storing, and managing all of that money, businesses quickly notice that dealing with cash using only traditional methods can be rife with risk and inefficiencies.
After looking for new solutions to reduce these cash-handling issues and improve their overall cash-handling process, many organizations have begun to turn toward smart safes. These devices combine the benefits of modern technology and cash management software with the security and storage of traditional safes. It may sound like a simple solution, but these technologically advanced safes can introduce new visibility into your cash flow and help you overcome many cash-handling issues.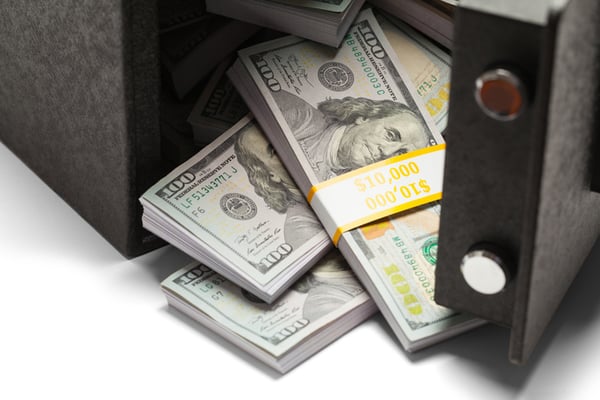 What Makes a Safe "Smart"?
While there are many features to choose from when looking for the right smart safe solution for your organization, at their core, smart safes can introduce several key functions to your business's cash management process.
Real-Time Data
As cash comes in with purchases, it then goes into the smart safe for safekeeping, but it also is tracked in real time with data such as a timestamp, who deposited it, and the store at which the money was collected. This information can then be reviewed each night, each month, or each year for each location or across your business's network for more awareness of cash flow and to identify improvements in cash management.
Transaction Validation
Smart safes also give your cashiers the ability to focus on their customers instead of the security of the cash they are handling. Smart safes have counterfeit detection technology built in as well as the ability to check counts so transactions are completed in full. This can mean less time closing registers and counting cash for it to then be stored.
These features help prevent having to recount registers at the end of a shift or business day and introduce additional accountability to your cash management process.
Cash Security
At their core, smart safes are just that: safes. The difference here is that they are built with the ability to count, track, and securely store cash in cassettes for pickup and deposit. Even further, smart safes are enabled with user authentication software. Each employee who interacts with the machine is tracked using their own login credentials, so thieves and simple human errors can be handled.
Who Can Benefit from Smart Safes?
No matter the size of your business, cash flow is vital to keeping your operations humming. Smart safes enable this process by tracking important data that you need to make business decisions, speeding up cash interactions, and keeping your cash safe with additional logging and security features.
So, whether you are a small grocery store, a business with a regional footprint, or a large corporation, the same benefits apply to the smart safes that you choose to implement. Just like no two businesses are the same, there are a range of smart safes to choose from to meet your needs.
What Else Can Smart Safes Do?
Making the switch to smart safes can also enable your business to benefit from what some banks call provisional or advanced credit. Due to the security and accuracy of smart safes, banks can then utilize your real-time cash flow to immediately process, log, and credit funds back to your organization to then be reinvested. This crediting can occur overnight and even before an armored pickup or a formal deposit at a bank.
What's Next?
If smart safes sound like a great solution to your cash management needs, then the next step is to get in touch with an experienced team like that of Burroughs. Burroughs' team can review your use cases, understand your needs, and help implement your smart safe solution. Not only that, but it can also make sure you have your secure network connectivity and maintenance needs met.
Learn more about Burroughs and its cash management solutions here.